Nach Frühling siehts draußen nicht aus, aber man kann ja nachhelfen- deshalb sehen die folgenden Bilder auch so aus wie es zu dieser Jahreszeit draußen aussehen könnte...
Aber los gehts erstmal im Stall. Bei uns ist ein neues Pferd angekommen, ein siebenjähriger Wallach, der auf
Gut Rosenhof
aufgezogen und ausgebildet(=bemalt und gehairt) wurde, aber aus unserer Zucht stammt. Wir hatten kürzlich seine Verkaufsanzeige entdeckt und gleich gesehen was für eine Mordsgaloppade er hat- da brauchte man nicht lange überlegen und die Verkaufsverhandlungen waren schnell abgeschlossen. Sein Name ist Greif und er ist ein Sohn von Grand Cru und Grailblazer, früher ging er unter dem Namen "Wake Up" im Springsport.
Wir hatten ihn zunächst in eine große Eingewöhnungsbox im Laufstall gestellt, aber er war doch sehr nervös und stand ständig unter Strom.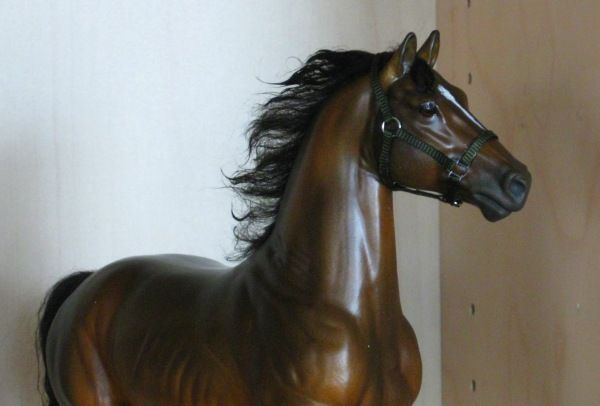 Darum dufte er zum Dampf ablassen auf unsere kleine Hausweide, auch wenn der Zaun da eigentlich zu niedrig für große Pferde wie ihn ist. Aber es haben sich einfach ein paar Leute zum Aufpassen rund um den Zaun verteilt. (Auf den großen Weiden ist der Zaun noch nicht fertig instand gesetzt. *g*)
Und draußen ging dann auch so richtig die Post ab- es war sehr gut dass viele Leute aufgepasst haben, denn er wirkte nicht als hätte er Respekt vor dem Zaun.
Einfangen ließ er sich aber brav, und danach war er auch im Stall ruhiger. Bald darf er dann auch mit den Anderen raus.
Sein Maul habe ich etwas retuschiert- ich wollte eigentlich dort einige kleine Fältchen einprägen, aber der Schutzlack auf dem Modell hat bereits bei wenig Hitze starke Blasen geworfen, so dass ich das lieber ganz schnell sein gelassen habe und dann die Nase retuschiert habe. Auf dem ersten Bild ist das Maul auch schon überarbeitet, auf den Außenbildern nicht. Und hier noch mal von Dichtem: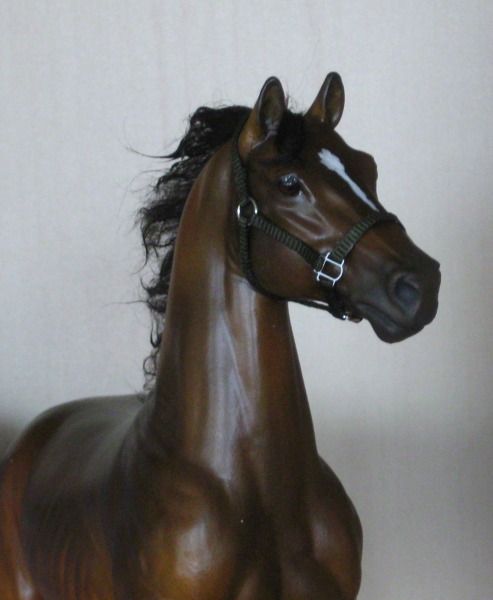 English Summary
Longing for Spring anyone? Outside it still looks like midwinter, so I decided to change that by use of a fitting background, LOL!
But first we start at the stable, because a new arrival awaits there. A seven years old gelding that was raised and trained (= repainted and haired) on
Gut Rosenhof
, but is a son of our Grand Cru and Grailblazer. Just recently we saw the sales ad for him and immediately realised what a great galopp he has. So negotiations were quickly done and he could arrive here. His name is Greif (Griffin) and in his recent career he was a showjumper under the name "Wake Up".
Here he was stabled in a large box to get used to his new surroundings, but he was very nervous and fidgetted around a lot, so it was decided to turn him out on the small pasture near the stables, even if the fences are a bit low there. (On the large pasture, the snow has caused damage to the fencing and repairs are not finished, yet. *g*)
Several people positioned themselves around the pasture and then watched the grass fly- he was really having some energy to get rid off and did indeed not look as if he was very much impressed by the fence.
Still, he was easy to catch after he had frolicked a little and soon he will be turned out with other horses, too.
On the first and the last image you see him with his newly retouched snout- I was attempting to create snout-wrinkles on his very square nose, just to find that the sealer used on him threw bubbles already at very low heatlevels. So I quickly stopped my attempts, after very meagre results, and sanded off the blisters and retouched his paint in the snout area.