Carl, was ist das denn?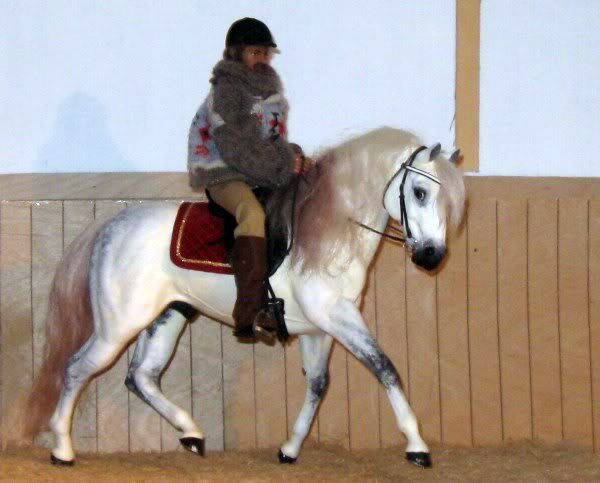 Nun ja, "das" ist was passiert, wenn man sich mal wieder spontan in ein Pferd verguckt. Als die Mini-Leute Bilder von ihm sahen, wollten sie ihn unbedingt haben.*g*
Deshalb ist
Lion des Montagnes
(Silberlöwe/ Berglöwe)vom
Gollenstein Hof
zu uns gezogen, er ist dort auch auf die Welt gekommen.
Als er ankam, war er vom Transport noch ziemlich aufgeregt, deshalb kam er erstmal kurz in die Box. Interessiert tauchten gleich die ersten auf, um ihn in Augenschein zunehmen.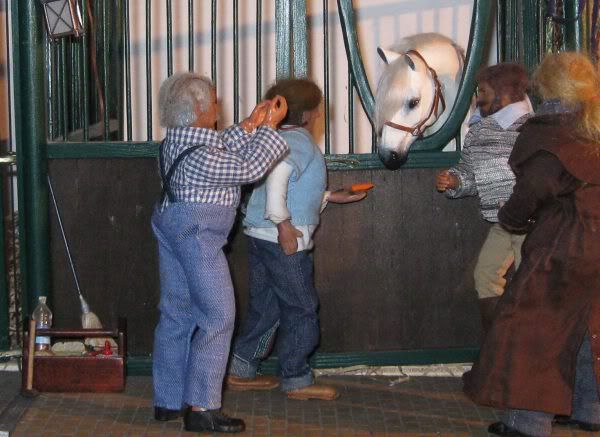 Otto schlug vor Begeisterung die Hände zusammen- was für ein Pferd! Anscheinend genau sein Geschmack.
Als Lion etwas ruhiger war, haben wir ihn dann raus auf den Sandplatz gelassen. Dort hat er sich dann erstmal den Stallmut von der Seele getobt:
Nach einer Weile wurde er ruhiger und hat dann sogar richtig für die Kamera posiert:
Mein Lieblingsportrait:
Am nächsten Abend "musste" Carl ihn dann mal reiten, nach dem Gehüpfe auf dem Platz haben sie ihm alle gerne den Vortritt gelassen.*g*
Da sie auf dem Weg zur Halle an ein paar Stuten vorbeigekommen waren, war Lion in aufgeregter Stimmung und tänzelte ein bißchen, ließ sich aber trotzdem brav führen.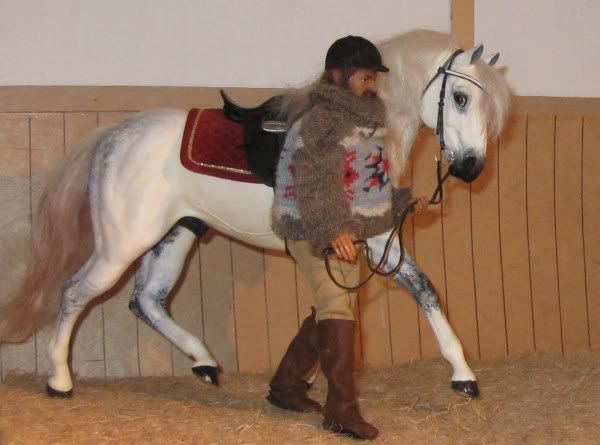 Auch wenns hier nicht so aussieht- Lion gefällt Carl sehr gut. *g*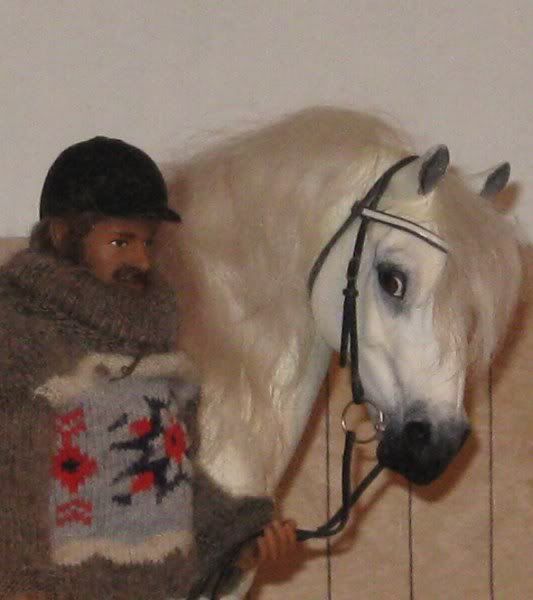 Dann mal los: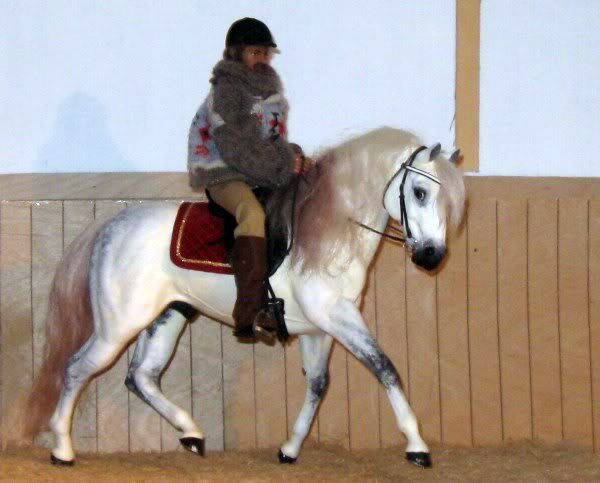 Heh, Junge, schickes Pferd! Ist der neu?
Mutti! Bitte geh mal mit der Stute raus, er hatte gerade angefangen sich etwas zu entspannen... Du kannst nachher wieder reinkommen.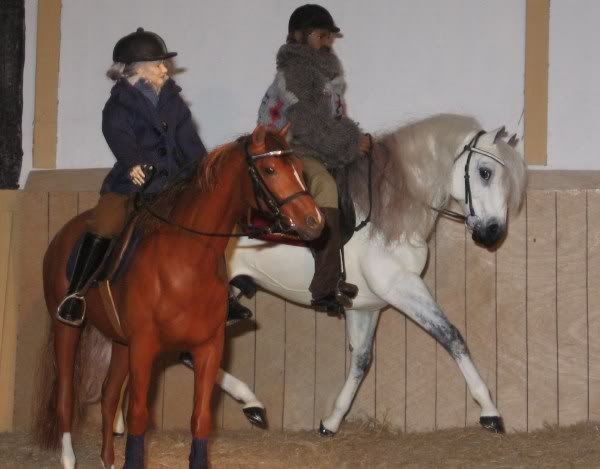 Lion ist weit ausgebildet und fein zureiten, sobald er sich konzentriert.*g*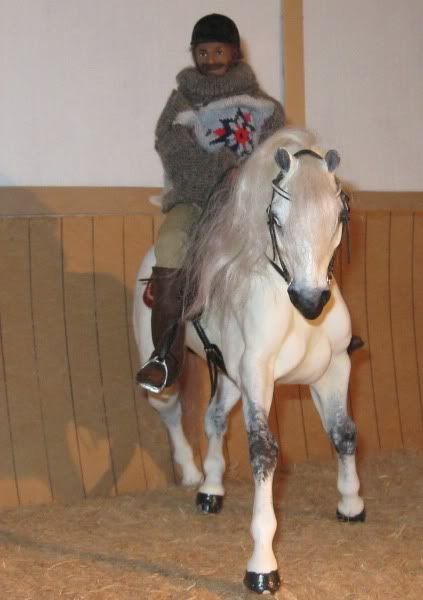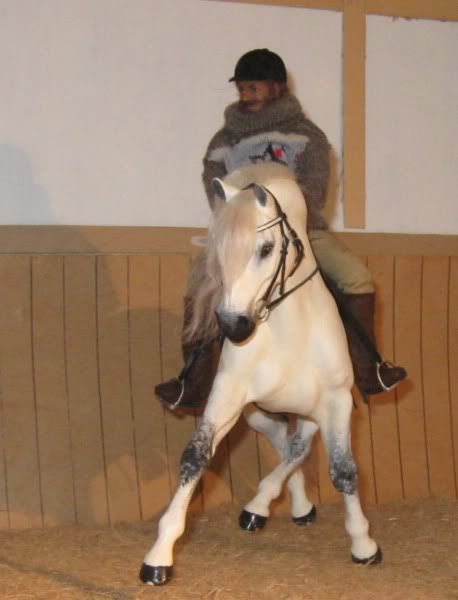 English Summary:
Very Spanish indeed.*g*
Carl, what is this? It does not look like a a warmblood or Thoroughbred!
"This" is what happens when you spontaneously fall in love with a horse- the mini people saw his pictures and forced me to buy him, I swear!
And so
Lion des Montagnes
(Mountain Lion) did arrive from the
Gollenstein Hof
where he was also bred and raised.
Getting here, he was still very much excited so we shortly parked him in an empty box- very shortly after, the first curious people showed up to inspect the new arrival. Especially Otto seemed very taken by him and clapped his hands, exclaiming "What a horse! What a horse!"
When Lion calmed down some, we let him run free on the sand-place outdoors. There, he had room to rid himself of his excess energy.
After a while of frolicking and running, he then started posing for the camera, which resulted in some very nice pictures.
The next evening, Carl "had" to ride him then. After they had seen him go "sproing" all over the outdoor arena, the others were no longer so keen to find out how his manners under the saddle are.
Don't be fooled by Carl's grumpy face- the grey one has already won him over, I just know it.
When they walked to the indoor arena, they had to pass some of the mares, which made Lion very, hmm..., spirited (*g*) again, hence him trotting after Carl. Despite showing off, he never got difficult to handle, though.
Carl had just started to work a bit, when Oma Lene showed up with Glow and asked:
"Hey boy, what a horse! Is he the new one you mentioned?"
"Mom, please! Leave us alone for a while, can't you see he's getting all excited again? Come back a while later, if you please..."
Lion has been trained to higher levels and once he manages to concentrate on his task, he is a very easy ride.