Diesen Winter wird mir sicher nicht langweilig, neben all den anderen Sachen (Kutsche, Schlitten, Hausfassade, diverse Bodies), habe ich hier noch ein paar weitere tolle Projekte.
Das ist Sleepy Sally
(Sleepy Sally ist das
Salinara Resin von Ilona Himmelmann
. Sie hat diese wunderbare Stute nach ihrer eigenen Irish Cob Stute Salinara modelliert.)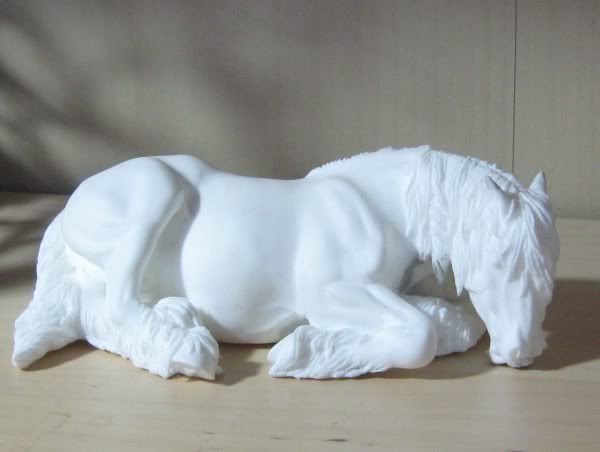 Unbemalte Resins fotografieren sich immer bescheiden, deshalb hier die Anmerkung, das dieses Modell eine wunderbare Austrahlung und Massen von kleinen Details hat.
Ilona hat hier wirklich ganze Arbeit geleistet, denn eigentlich sprach alles gegen dieses Modell- es ist Classic Größe, die Rasse sammele ich nicht und dann ist es auch noch voll mit modelliertem Langhaar.*g*
Da das Modellpferde-Hobby aber nicht rational ist, konnte sie sich trotzdem in meinen Modell-Stall schummeln. Und ich habe es nicht bereut! Als ich sie aus dem Paket genommen habe, war ich total begeistert.
Und in einem Krimskrams Laden habe ich diese beiden Prachtstücke von Polystone Bernhardinern gefunden: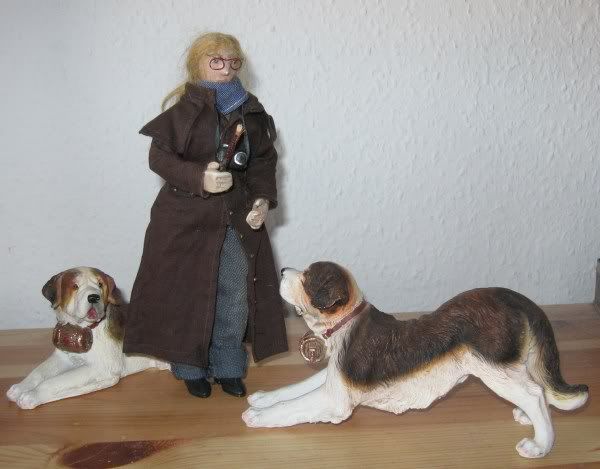 Ich habe schon die Fässchen entfernt und angefangen sie anständig zu bemalen, hier ein "in Arbeit" Bild mit Caesar: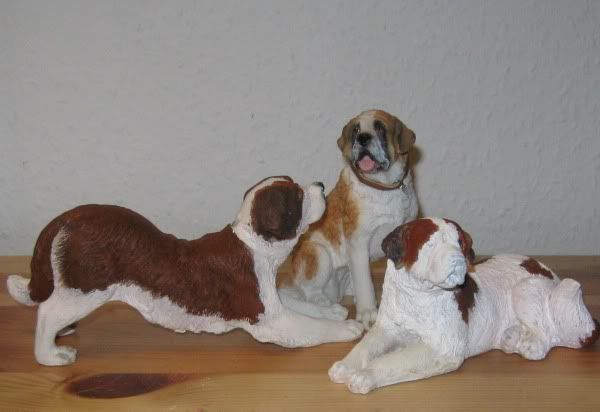 English Summary:
Above you see the lovely winter projects that I recently acquired. Yes, I know, here are already enough started projects flying around, but tell me, could you resist those cuties? *g*
The lovely little mare Sleepy Sally is the
Salinara resin
by
Ilona Himmelmann
. She sculpted her after own real Irish Cob mare Salinara and did a fabulous job. The pictures can not do the model justice, white resin is so hard to take pictures off. She has tons of presence and loads of lovely little details like wrinkles on her little snout.
That she is here at all is a small miracle, too, because
a) She is Classic size
b) I do not collect Irish Cobs
c) So much sculpted hair - no rrh project
I am very happy that I fell in love with her pictures anyway, because in person, she is so full of personality, you really want to hug that little horse.
Then I recently found those two Polystone resin St. Bernhard dogs in a deco shop. I immediately saw their potential and took them home. Currently, they are in the process of getting an overhaul.