Jedes Frühjahr guck ich mir mal meine Pappenheimer an und mache wenn nötig kleine Schönheits-OPs. Dabei restauriere ich aber nur, ich würde nie das ganze Pferd neubemalen, nur weil ich es jetzt besser kann. (Ich hab mal zeitweise anders darüber gedacht, aber ich war ja mal stolz als ich die Pferde fertig hatte, denn zu der Zeit war das das Beste was ich zustande gebracht habe. Nur weil ich inzwischen besser malen kann, heißt das aber nicht, das ich die Modelle nun nicht mehr mögen würde, deshalb haben sie verdient zubleiben wie sie sind.)
Als ich Dreamthief fertig hatte und in meine ToC-Conga entlassen habe, hab ich mir die Damen nochmal genauer angeguckt- ach so, das ist übrigens der momentane Stand meiner Sammlung an ToC-CMs: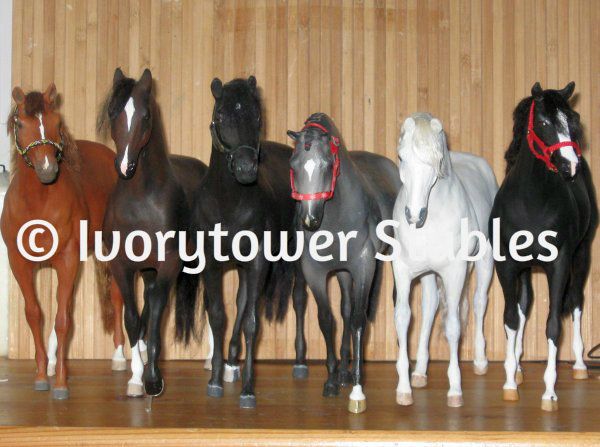 (Von links nach rechts: Glow, Gralskönigin, Black Queen, Royal Snowflake, Irrlicht, Dreamthief)
- naja, jedenfalls waren meine beiden älteren CMs Irrlicht und Black Queen diesmal doch etwas überholungsbedürftig.
Irrlicht ist schon fertig und wieder auf der Weide:
Black Queen, ganz Diva, wollte, dass ich ihre Instandsetzung noch ein bisschen zeige. So sieht es also im Modellpferde-Spa aus. *g* Während Irrlicht hauptsächlich Kratzer hatte, hat Black Queen ein paar Materialunverträglichkeiten (sie ist eins meiner ersten CMs) die nun an diesen Stellen die Farbe reissen ließen. Ich habe die Stellen nun geschmirgelt und teils ausgebessert, nun muss nur noch wieder Farbe drauf.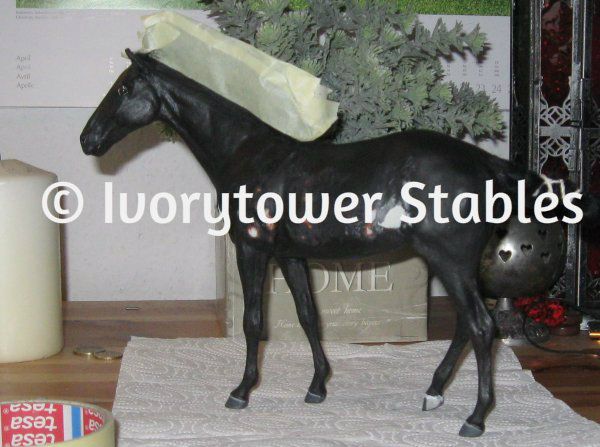 Hier habe ich schon wieder die erste Farbschicht drauf. Ich werde da morgen sicherheitshalber aber noch Lack draufsprühen, deshalb dauerts noch ein bisschen, bis auch Black Queen wieder aus der Klinik kann. *g*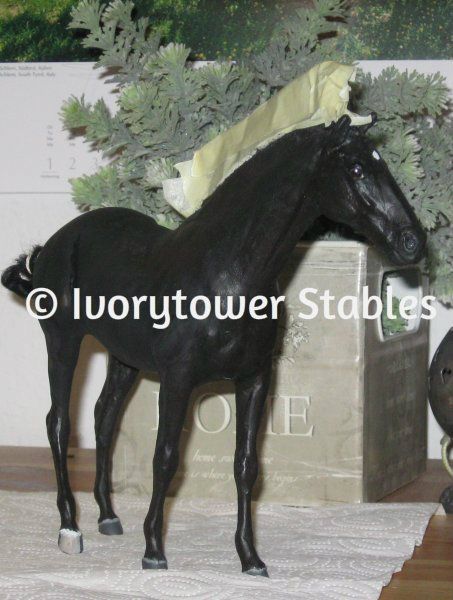 So ein bisschen skeptisch guckt sie ja auch noch...
English Summary:
Every time in spring, I do check my horsies for damages and do some surgery where necessary, only to restore their former appearance, though. I'd never do a total makeover nowadays, but rather just restore the spots that have suffered. (I thought differently for a while, but now I think that a model that I was proud of because at the time of its creation it was the best that I could do, has deserved to stay as it is, even if my skills have improved in the meantime. I love them as they are.)
And when I finished Dreamthief recently and put her amongst her fellow ToC-CMs in my collection - the current resident ToCs you see above in the group-portray- I saw that Black Queen and Irrlicht, whom I remade myself, were in need of some TLC.
Irrlicht is already finished and back on the pasture (mainly scratches to paint over)
,
but Black Queen wanted to be featured in this post. *g*
On her, there is a little more work, because there were some reactions between paint and remaking areas (since she is one of my really early ones, the remaking had occasionally a more experimental character. *g*) and I sanded those, refilled where needed and am now adding black paint again. She will be sealed with laquer after, so it will be a little while longer until she is back to old glory.