Schon vor einiger Zeit hatte ich eine blau-gelbe Breyer Decke gekauft, in der Hoffnung sie etwas verschönern zu können. Das habe ich nun in Angriff genommen.
Die Decke sieht im Original so aus- etwas seltsamer Schnitt und vorne und links riesige Klettverschlüsse an viel zu langen Strippen:
Breyer Decke Blau-Gelb
Und nachdem ich ein bißchen daran gearbeitet habe, sieht die Decke so aus: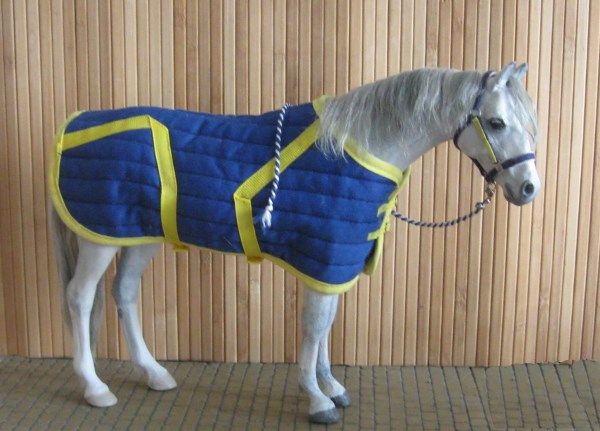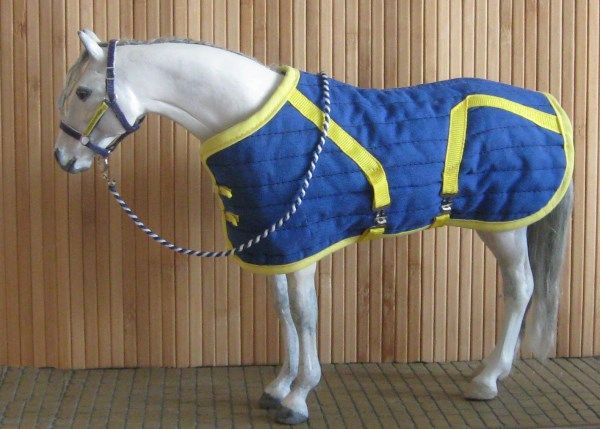 Was habe ich gemacht?
Die vorderen Riemen abgetrennt, alle Klettverschlüsse herausgetrennt. Dann habe ich aus der Rambo-Decke, die eh keinem Pferd passt, die Gurtverschlüsse herausgetrennt und sie an den Gurtstrippen der blauen Decke wieder befestigt, außerdem noch eine Schnalle dahinter, mit der sich, wie bei echten Decken, die Länge der Strippe an den Bauchumfang anpassen läßt.
Auf der Unterseite der Decke habe ich eine Naht ausgelassen und auf der Oberseite die Lage einer der Strippen auf der rechten Seite korrigiert und somit den Sitz der Decke etwas verbessern können.
Als letztes habe ich die Riemen, die ursprünglich vorne dran waren, zurechtgeschnitten und mit Schnallen versehen.
Ein Tip zu den Riemen- damit man damit überhaupt arbeiten kann, ohne das sie aufribbeln, habe ich die Unterseiten mit Sekundenkleber eingestrichen. Dadurch wird der Riemen fest, läßt sich sehr gut schneiden und Fäden können sich auch nicht mehr lösen.
Und dann kam heute noch ein Neuankömmling an- der muss aber erst noch in die Maske, sozusagen.
Hier ist schonmal ein Sneak-Peek: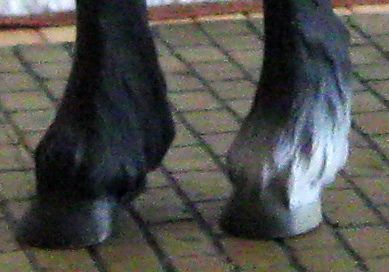 (Sorry für die schlechte Qualität)
English Summary:
Today, I show a customized rug, not a horse, LOL!
Already a while ago, I got bought the blue and yellow Breyer rug in hopes of making it look more real. It is this one:
Breyer rug in blue and yellow
It has a slightly weird fit and huge velcro on all ends of the ribbons. The ribbons are also waay too long and flop about uselessly under the horse.
After a while of work, I came to a pleasing result, that you can see in the pictures above. Now it looks way more real and fits better.
So what did I do to it?
I cut loose the ribbons in the front and removed all velcro most carefully from all straps. Then my useless (it fits no horse I own) Breyer Rambo Rug did a donation of metal parts, because those clasps are the only good things about it, LOL!
The clasps I reattached to the straps of the blue blanket and I also did not forget to add a buckle that now varies the length of the strap, just as on a real blanket.
On the underside of the blanket one seam was opened and on the surface the position of one strap corrected marginally- lo, immediately a better fit!
Lastly, I cut the ribbons to size that had been originally in front, attached buckles to them and reattached everything to the blanket.
A tip for working with those ribbons- to be able to work with them at all and not have them run like heck, I glued their underside and set to dry. After that, I could cut them like paper and no lose fibres threatened to ruin everything.
And then the last picture above shows a new arrival- or rather part of him... he needs to get some overhaul first, but I could not resist a sneak peek.