"Charlie und ich würden gerne einziehen!"
Das kann ich mir gut vorstellen, aber das Haus ist noch nicht weiter. Allerdings ist die Hausbesitzerin aus der Klinik zurück.
Mehrere Drähte in ihrem Inneren waren kaputt und außerdem war ihr fertiger Puppenkörper nicht so ganz gut proportioniert. Deshalb habe ich sie auseinander genommen und ihr einen ganz neuen Körper gegeben.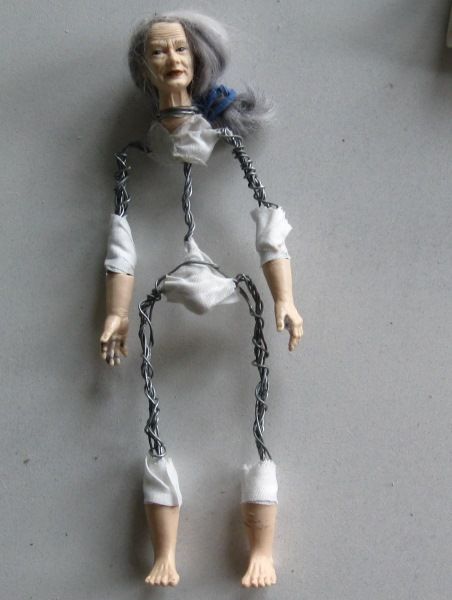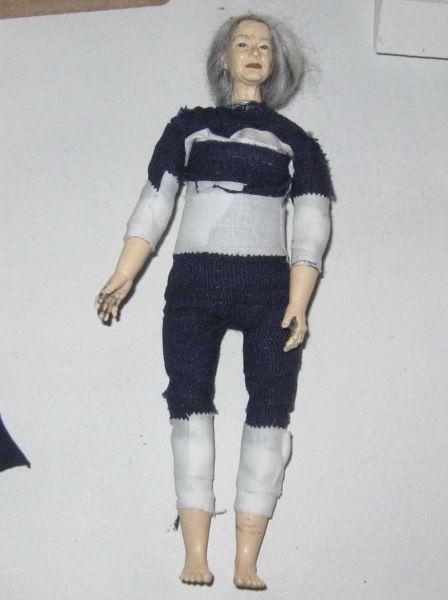 (Auf diesem Bild hat sie noch Dreck im Gesicht, ahem)
Jetzt stimmen zwar die Proportionen, aber sie ist nun auch eher 1:11 im Maßstab. Hmmm... gut das das Haus unten so eine hohe Decke hat. *g*
English Summary:
"Is the house done, yet? Charlie and me want to move in!"
Well, I have to disappoint Oma Lene here, because there has been no progress. But she has no reason to complain, because I finally fixed *her*.
She had some broken wires and a slightly disproportionate body to begin with, so I made her a new one from scratch.
Now she looks much nicer- and is unfortunately outgrown the 1:12 scale somewhat. Aw, well, then she is a tall old lady and the house does have a high ceiling. *g*