Vor kurzem hatte Oma Lenes beste Freundin Heiderose (Rosie), auf einem Spaziergang einen leeren Laden gar nicht weit weg vom Haus Oma Lenes entdeckt.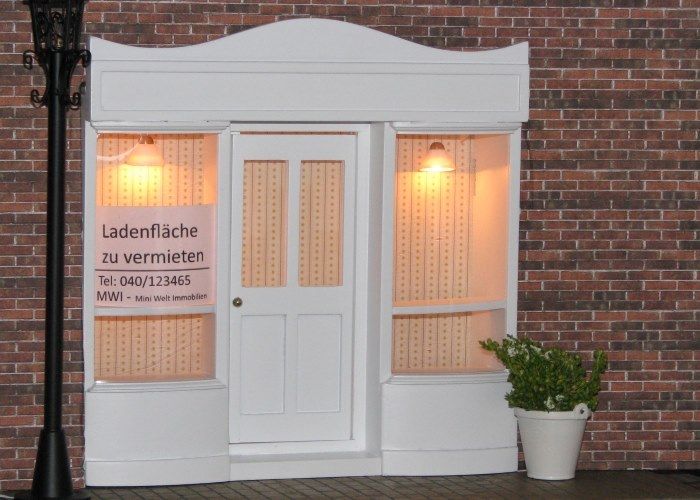 Als sie am Abend darauf auf Besuch zu Oma Lene wollte, machte sie extra einen kleinen Umweg, um das Geschäft mal genauer anzusehen. Leider war niemand da, der sie hätte herumführen können, aber damit hatte sie auch nicht wirklich gerechnet.
Sie merkte sich die Informationen auf dem Aushang und setzte ihren Weg fort.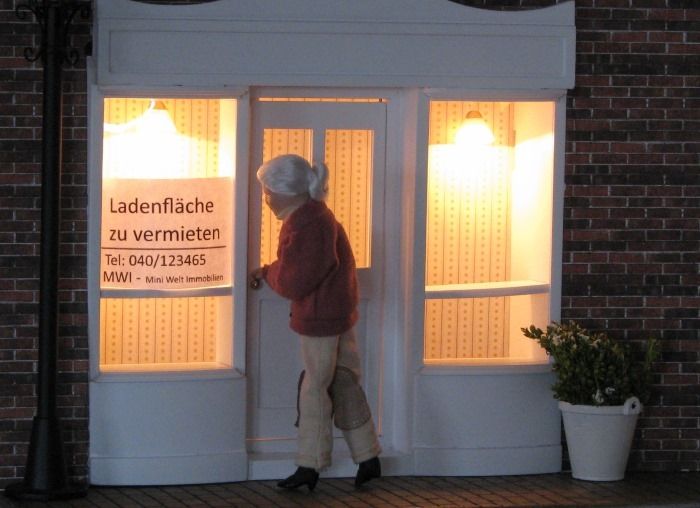 Bei Oma Lene angekommen, kam die Rede im gemütlichen Klönen auch auf sinnvolle Beschäftigungen und Rosie fiel der Laden wieder ein. Aufgeregt bat sie Oma Lene doch ihr Laptop zu holen und nach kurzem suchen hatten sie die Online-Anzeige für den Laden beim Makler gefunden.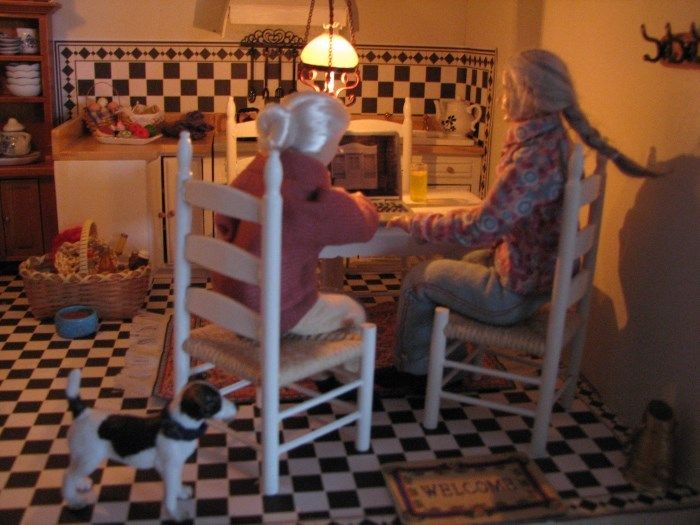 Stolz präsentierte Rosie ihren Fund- "Und was denkst Du?"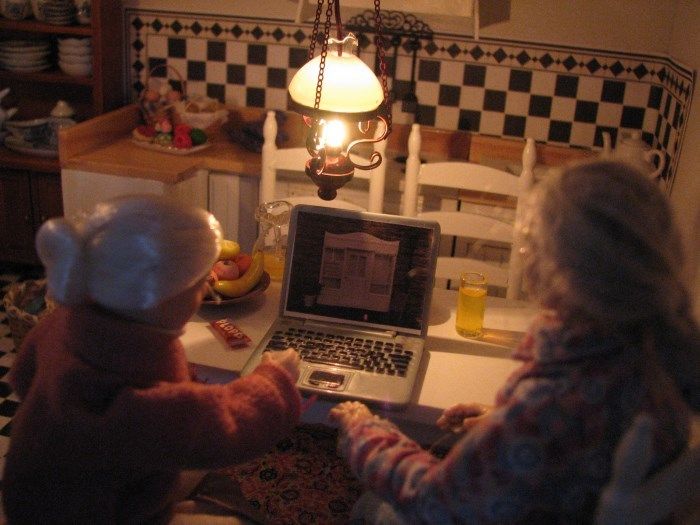 Oma Lene war zwar nicht sicher, ob und wie sie ihr Leben passend organisieren konnte, aber so ein eigener Laden war ein langgehegter Traum von ihr und die Fotos im Internet machten sie sehr neugierig.
Da das Wetter gut war und der Laden nicht weit weg, gingen beiden gleich spontan einmal gucken.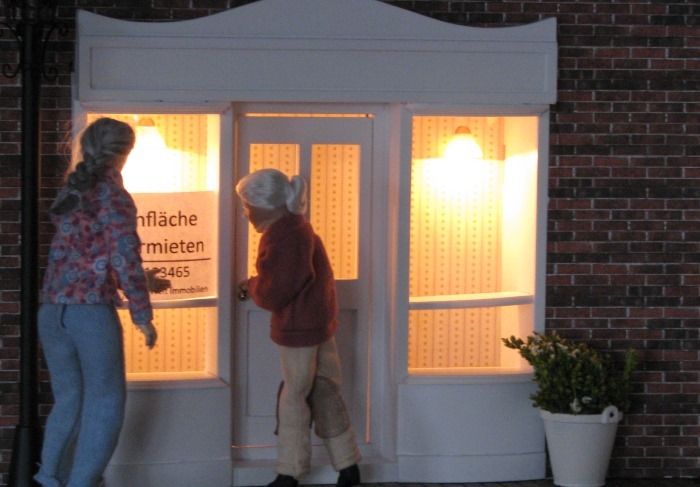 Kurz danach gab es einen Besichtigungstermin, zu dem die Freundinnen aufgeregt erschienen. Anscheinend war er ein Erfolg, denn hier gehen die beiden angeregt sprechend nach Hause- das sieht doch so aus, als hätten sie da schon ein paar Pläne gemacht?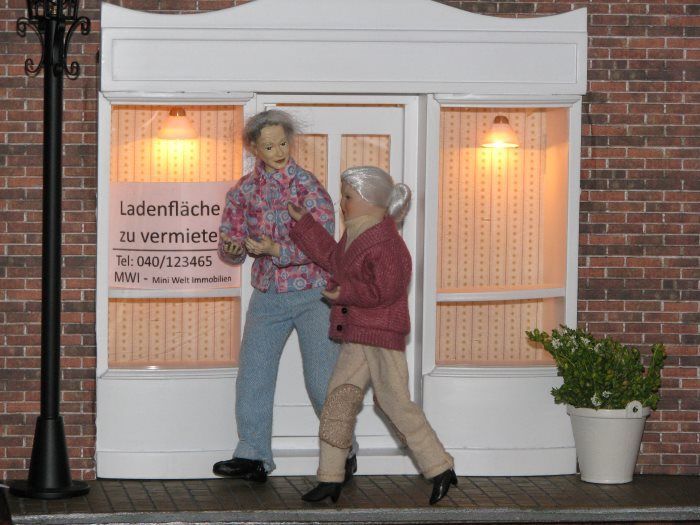 Und richtig, am nächsten Morgen prangte ein neues Schild im Schaufenster: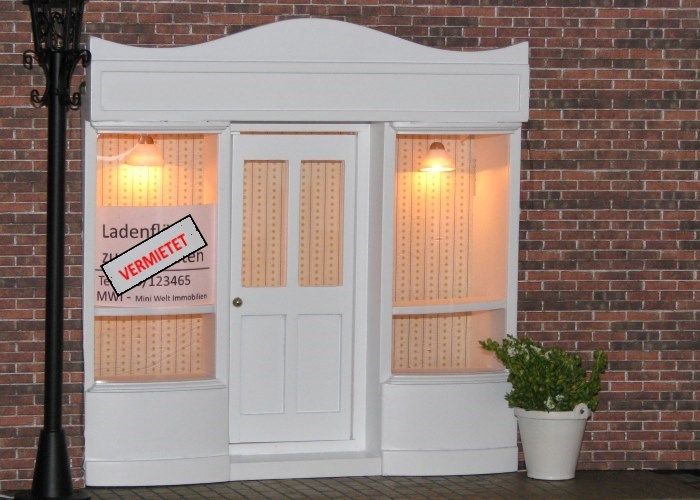 English Summary:
While taking a little walk, Oma Lene's best friend Heiderose (Rosie) came across an empty shop that was for rent and she thought immediately of her friend. It seemed also more than convinient that the shop was just a few streets away from Oma Lene's house.
The next evening, when Rosie was on her way to see Oma Lene, she made a small detour to look at the shop again. She tried the door, hoping that maybe someone could show her around, but of course no one was there. So she memorized the info in the window and went on to Oma Lene's house.
While they sat talking cosily, the shop became a topic and Rosie asked Lene most excitedly to please get the laptop, she had found something.
After a short search, she found the page where the shop was presented online and proudly showed her find to her best friend.
Oma Lene was not entirely sure if and how she could manage running a shop, but it definitely was one of her dreams, so she got very curious.
Since the weather was fine and the evening mild, they went to have a look right away.
Not long after, they had an official tour through the shop and if you look at them as they walk back home, this looks like a very excited talk with making plans to me...
And right. The next morning, there was a new sign in the shop window and it said the shop was spoken for.