Hier gibts nun gleich drei Pferde auf einmal zu sehen:
Zum einen den Rappen "Gewitter"*:
An ihm hatte ich an den Details gearbeitet, hier ein Zwischenstand:
um ihn dann heute das erste Mal lackieren zu können- noch steht er draußen im Lack-Karton:
Bin gespannt wie es aussehen wird und ob er noch mehr Farbe braucht.
*Den Namen hat er sich verdient, immer wenn ich an ihm arbeite donnert und/oder regnet es...
Und dann durfte meine OSC-Stute mal wieder aus dem Schrank, weil ich einen Geistesblitz hatte.
Mir ist es nun gelungen, weitere Unstimmigkeiten zu eleminieren und ihren Kopf nochmal zu verfeinern. Außerdem habe ich mich entschlossen, dass sie doch ein Warmblut/Halbblut-Pferd wird. Die Abstammung wird dann (Sterndeuter x Dwimordene) sein.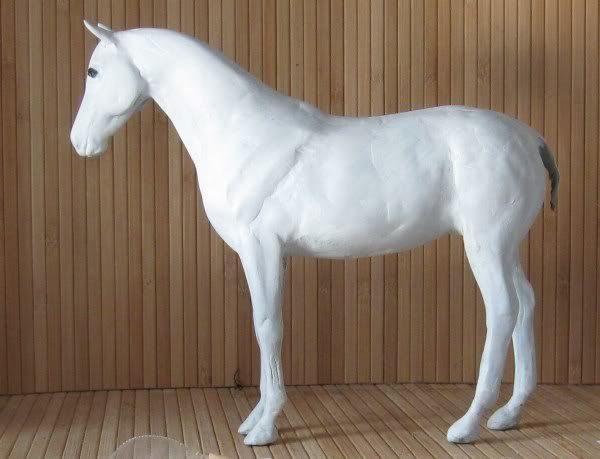 Als nächstes kommt erstmal die vernachlässigte Hinterhand an die Reihe.
Und auch ihr Fohlen macht Fortschritte und bekommt langsam Details: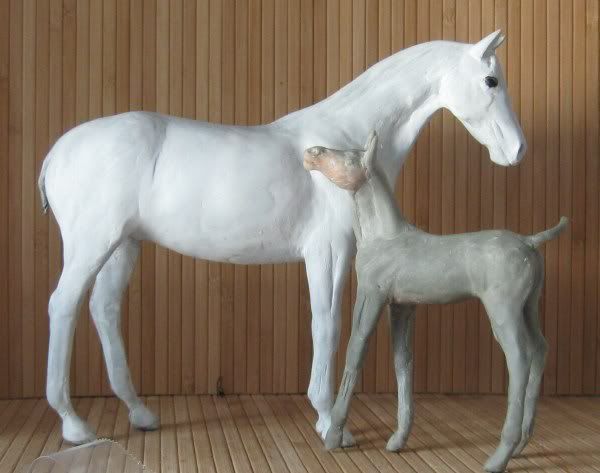 English Summary:
Three horses in one post!
The cantering horse, Gewitter (thunder storm), who got his Name, because whenever I work on him, rain or thunders come up, LOL!! So he had some more detailings added, piccies above were in progress and has now today got his first layers of laquer. Am now very curious if he'll need more black layers or if it looks already convincing. Currently he's still out there.
Then next, my mare and foal OSCs were allowed out of the closet again, too, because I had some ideas what was so wrong with the mare. (I couldn't really place my finger on it, so to speak). Now I have already fixed some of her problems and managed to refine her head further. Next, her neglected hindend will get some work done.
I also decided upon her "heritage", making her half a TB and descending from Sterndeuter x Dwimordene.
Her foal is slowly making some progress as well, now getting details added.