Wer noch Weihnachtsbeleuchtung für seine Puppenwohnung, den Stall oder das Reiterstübchen sucht, sollte mal bei Depot vorbeigucken. Dort habe ich heute eine Mini-Lichterkette gefunden, die kleine LED-Schneeflöckchen Leuchten hat und von der Größe her zu Tradi (evt. auch Classic, als große Lichter) passt:
Hier mal schnell über ein paar Pferde drapiert, zwecks Größenvergleich: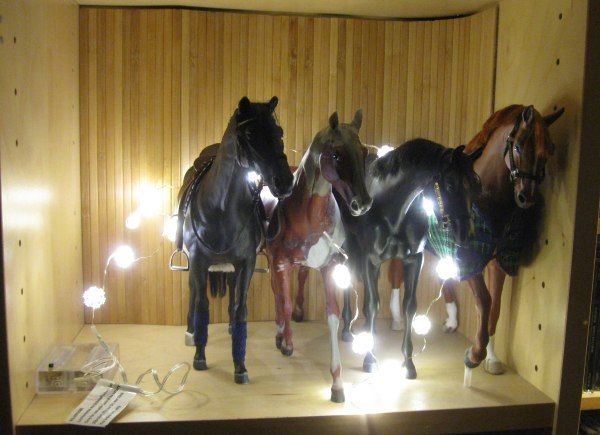 Praktischerweise ist die Lichterkette Batteriebetrieben und entwickelt kaum Wärme an den Lämpchen, so dass man sie sicher sehr vielseitig einsetzen kann. Meine wird wahrscheinlich ins Reiterstübchen oder die Reithalle kommen.
(Webseite von Depot wäre hier, da haben die aber nicht immer alles, was es direkt im Laden gibt:
Depot
)
English Summary:
Yesterday I found those adorable mini lights shown above. They are LEDs in snowflake shape and can be used for winter-scenes with anything Traditional sized. Above you see them quickly draped over some horses. Since they are powered by batteries, the decoration possibilities are endless. Mine will end up in the little room that I have set up in one shelf.