Neulich sah ich zufällig einen einfachen Sattel angeboten und wollte eigentlich nur die dazugehörende Schabracke haben. Als der Sattel aber hier war, sah ich, dass er sich relativ leicht noch etwas aufarbeiten lassen würde. Und genau das habe ich heute gemacht.
Recently I got my hands onto a very simpy saddle and originally just bought it because of the saddle-cloth that came with. When having the saddle here I saw that a little enhancement would not take all that much time, so I set to work.
Das ist der Sattel. Er sieht prima aus, ist nur etwas flach und...
This is the saddle. It looks neat, just a bit on the flat side and...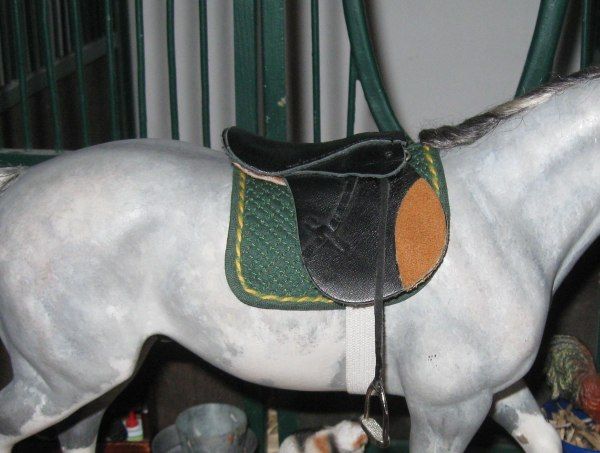 ...hat eine sehr eigenwillige Begurtung. Da die Idee aber grundsätzlich praktisch ist wenn man draußen auf- Fototour auf oder absatteln will, werde ich das beibehalten und nur etwas weniger kratz-gefährlich machen.
... has a very creative way of closing the girth. I really like that idea, though, because if you want to remove the saddle while being on phototour and later get it back on, the realistic way of closing a girth can turn into quite the challenge. So I am just gonna make it a bit less prone to leave scratches on unprotected models.
Als erstes habe ich den Sattel vorsichtig auseinandergenommen, zum Glück hielt der Kleber nicht mehr so gut. Hier sieht man das Innenleben.
First I gently took the saddle apart. Thankfully, the glue did not hold that strongly anymore. So here you see the single parts.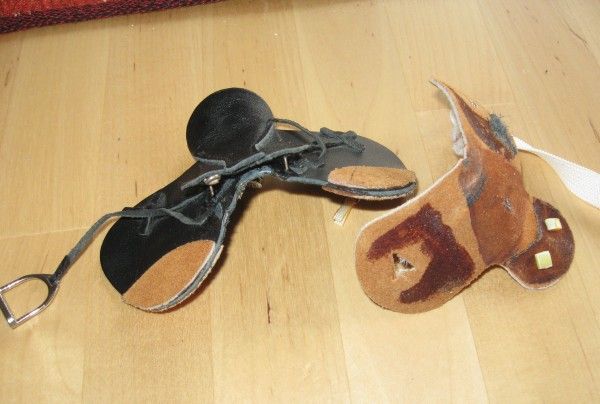 Die Steigbügelriemen sind nicht verstellbar, da eingeklebt. Ich hätte hier Ringe eingearbeitet und verstellbare Riemen genommen, aber da leider das Riemenende fest mit dem Sattelblatt verklebt ist, konnte ich hier nichts ändern ohne das Sattelblatt kaputt zumachen. Die Bügel wurden deshalb nur vorsichtig abgelöst und später wieder hingeklebt.
The stirrup-straps can not be adjusted, because they are glued into place. I wanted to change that and add rings and adjustable straps, but the ends of the straps are solidly glued to the saddle itself and I would have ruined its surface by removing them. So I just carefully removed the front part of them and glued it back again, later.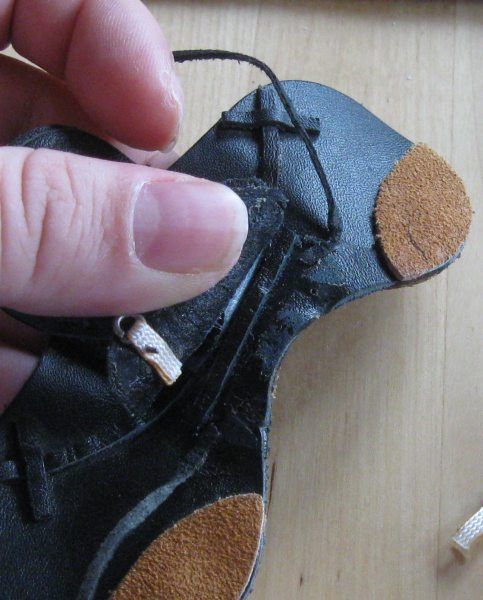 Um dem Sattel Form zugeben, habe ich die simpelste Form eines Sattelbaums gewählt- einfacher Blumendraht. Trägt kaum auf, ist aber doppelt gelegt stark genug das Leder in Form zu halten.
To give shape to the saddle's seat, I chose the simplest way of making a saddle-tree. Simple wire. It almost takes no room, but laid double as here is strong enough to keep the leather in shape.
Zuerst wollte ich die Löcher im unteren Sattelblatt nur mit Flicken schließen.
First, I planned to simply cover up the holes in the lower saddleflap.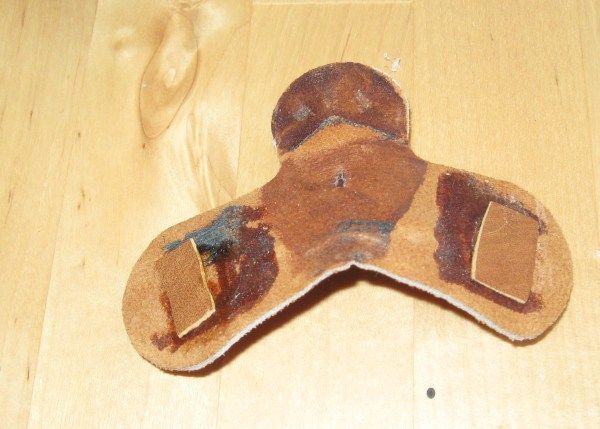 Doch dann habe ich das Ganze lieber mit einer Schicht dünnen Leders bedeckt.
But then I decided to rather cover all of it with a layer of thin leather.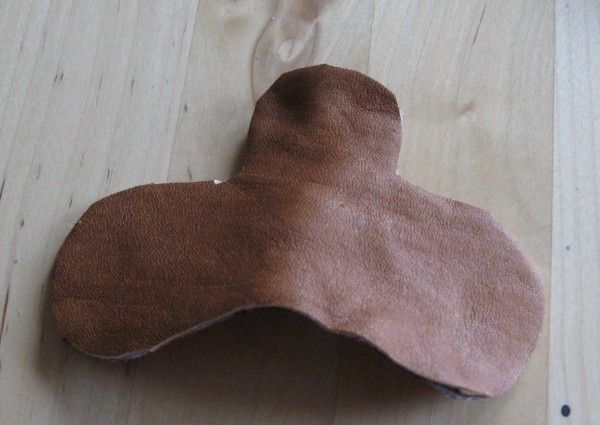 Hier die Teile, die nun wieder zusammengefügt werden müssen.
And here's what needs to be merged again.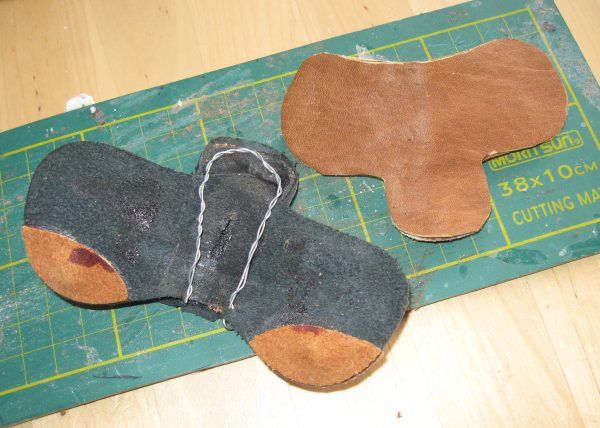 Meine überarbeitete Version der Begurtung sieht nun so aus:
The overhauled version of the girth-system looks like this now: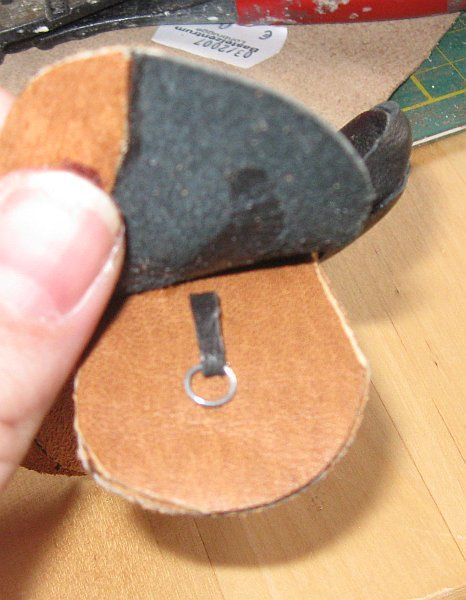 Und noch die Sattelkissen. Ich konnte keine kompletten Polster einbauen, da der Sattel im vorderen Teil sonst zu weit vom Pferderücken weggekommen wäre, da das Leder der Sattelblätter sehr dick und starr ist.
And the upholstery. I could not build the normal sized sort of saddle-pillows here, because the saddle is made from thick and rather immobile leather. Big pillows reaching further under it would have lifted the whole saddle way off of the horse's back.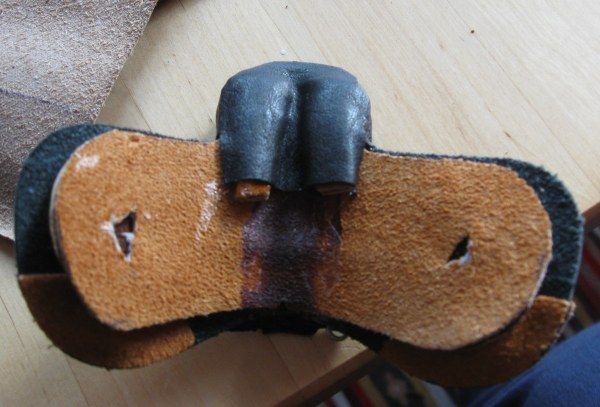 Und so sieht er nun aus.
And that's the result.