....ist wohl Löwenherz. Warum? Weil ich kein anderes Remake-Opfer bisher so oft wieder auseinander gepflückt habe, um ihn neu wieder zusammenzubauen. Eigentlich müßte er ohnmächtig werden, wenn er eine Säge sieht- wird er aber nicht. Und darum ist er der Tapferste, ich hatte wohl schon sowas geahnt als ich ihn getauft habe. *g*
Jetzt habe ich einen kleinen Durchbruch erzielt- ich habe die Position der Beine endlich zufriedenstellend geändert, vorher hat immer irgendwas gestört. (Die Beine an sich brauchen offensichtlich noch eine Menge Arbeit)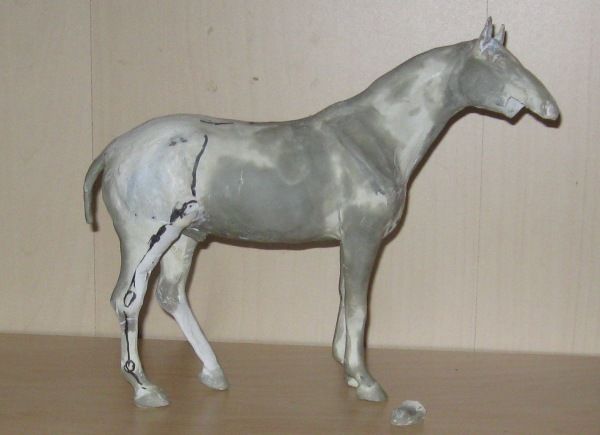 Da fehlt was? Achso, ja, der Unterkiefer. Der liegt ihm gerade zu Füßen. Denn um sicherzustellen, das ich ihn garantiert niemals fertig bekomme habe ich beschlossen, dass er gähnen wird.
Die nächste Frage ist nun, kann ich mit den Beulen unterhalb der Kniescheiben leben oder nicht? (Da liegt der Draht richtig beschränkt...damals hatte ich noch nicht so den Überblick was das anging) Wenn nicht, müßte ich die Hinterbeine absägen... o.O
Naja, hier aber erstmal zur Erinnerung der weite Weg, den Löwenherz schon hinter sich hat. Alles fing so an, es waren einmal ein Pacer Kopf und Körper...
Ziemlich eindeutig, dass da so ziemlich alles nicht stimmt.
Dann bekam er seine Beine etwas sortiert und den Rücken verlängert und einen neuen Kopf (Hannoveraner)
Und dann eine Haltungsänderung, die im viel mehr Ausdruck gab.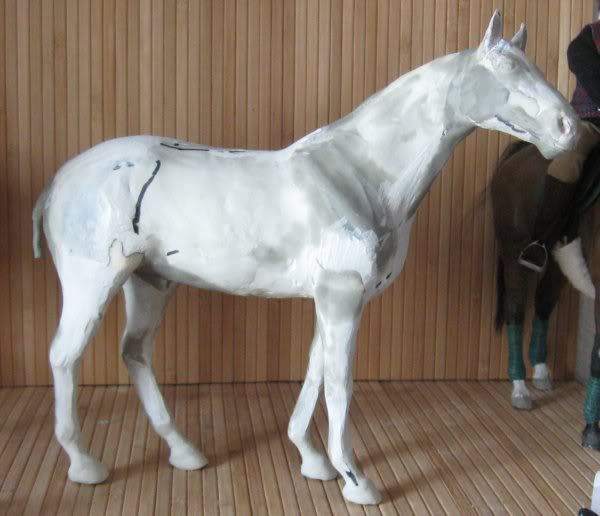 Aber irgend was nervte immer noch mit den Beinen auf der linken Seite. Bis ich nun zu Säge und Seitenschneider gegriffen habe und die (hoffentlich) letzte Stellungsveränderung gemacht habe.
Außerdem habe ich meiner Webseite viele neue Bilder hinzugefügt und angefangen, mein Tack auf einer Seite eigens dafür vorzustellen. Ich habe mir erstmal mit ein paar schon vorhandenen Bildern beholfen, aber ich werde auch noch neue Bilder machen und nach und nach einstellen.
English summary:
Lionheart is the bravest horse in the shelves? Why? Because he's been sawed apart again and again so often now and he still does not faint when seeing the saw. Tough guy!
I think I now finally fixed the position of the legs, yay! The legs themselves do need some fixings still, obviously. *g* The big question here is if I will be able to live with the lumpy area under his kneecaps there on the hindlegs... The wire lies there very stupidly, because at the time when I began him, I was pretty clueless about that. If I can't live with that, I will have to saw his hindlegs off, though...
And yes, he is missing his lower jaw. It lies at his feet there. That is because I decided to ensure I would never finish him in this life and will sculpt him a yawning snout.XD
The pics below show the way he has come already, it has been quite some changes.
In other news I have been busily adding some piccies to my horse website and I made an entirely new page for it where I present my favourite tack-pieces. I'll be adding to it bit by bit. Some images I already had to hand and new ones will be taken, too.