Hurra, heute habe ich zum ersten Mal seit einer gefühlten Ewigkeit mal wieder was Kreatives gemacht- beim Einkaufen lief mir ein beinahe maßstabstreues Bernhardiner-Modell aus Kunststein über den Weg. Natürlich war die Bemalung wie immer bei solchen Modellen grottenschlecht und deshalb habe ich nun angefangen, ihm vernünftig Farbe zu verpassen.
Einen Spitznamen hat er auch schon: Schnuffi. Und das kam, weil die Frau an der Kasse beim eingeben sagte "Och, was haben Sie denn da für einen Schnuffi?". *g*
Hier ist er, es ist noch ein bißchen was zu tun, aber er ist schon vorzeigbar: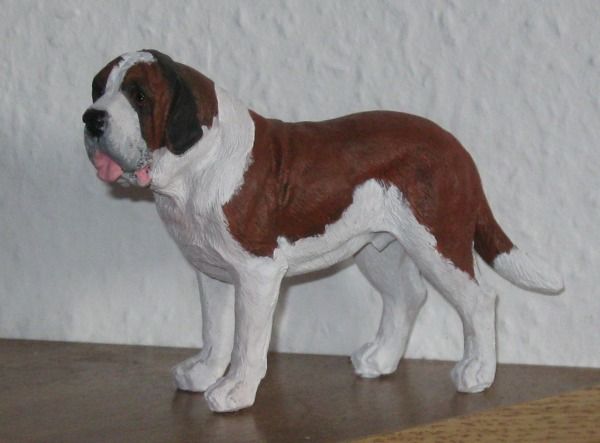 English summary:
Yay, finally I could do something creative again - it feels like forever since I last actually painted or made something... When I did my weekend shopping, this doggy leaped into my basket at the grocery store. He's almost true 1:10 and made from polyresin. Like all of his kind, his painting was horrible and so I sat down to do something about it. Above he is not finished, yet, but you can see where he is going.
And he already has a nickname, too : "Schnuffi" The name happened when the lady at the tills went: "Awww, what a Schnuffi you have got there!" LOL!!