Nachdem ich den Hund heute Eva gezeigt habe, die fand, er erinnert etwas an die Holländischen Vorfahren ihres eigenen Hundes, die alle ein bisschen langschnäuzig sind, hatte sie noch ein paar gute Tipps. Also zurück auf den Arbeitstisch: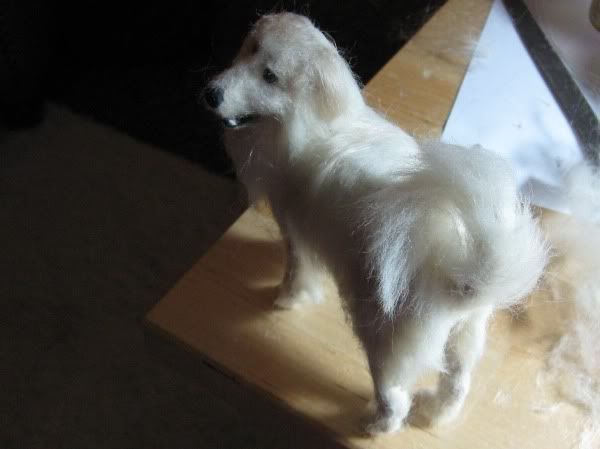 Evas Tipps:
1.Augen müssen mandelförmig aussehen
2.Die Wolfskrallen fehlen
3.Die "Hosen" brauchen noch mehr Fell und auch die Hinterhand ist befiedert.
Lösungen:
1. Ließ sich nur bedingt lösen, hätte ich gleich anders modellieren müssen, aber etwas besser ist es jetzt.
2.Die Wolfskrallen hielten nicht, da sie keinen Drahtkern hatten -> wird besser beim nächsten
3.Federn und sonstiges Fell wurden großzügig hinzugefügt.
Ein Name musste nun auch noch her- und das auch für den "Zwinger" schließlich war das ja nicht das letzte Fellknäul.
Zwinger war einfach: "Tour D'Ivoire"
Und der Hund heißt nun "
Abécédaire de Tour d'Ivoire
", gerufen "Abby". Das schien mir irgendwie passend für den ersten Versuch, ein "abécédaire" ist ein Buch zum Lernen des Alphabets- ich übe ja schließlich auch noch die Grundlagen des Hundebastelns.
Endlich hab ich nun auch die Schokoladenseite zum Fotografieren gefunden, gar nicht so leicht bei einem Hund, der hochguckt...
Neuer, verbesserter "Fluff-Popo":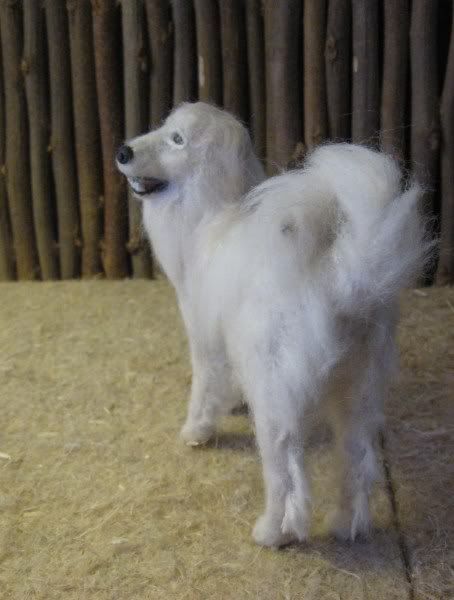 Aus der "Besitzer-Perspektive" *g*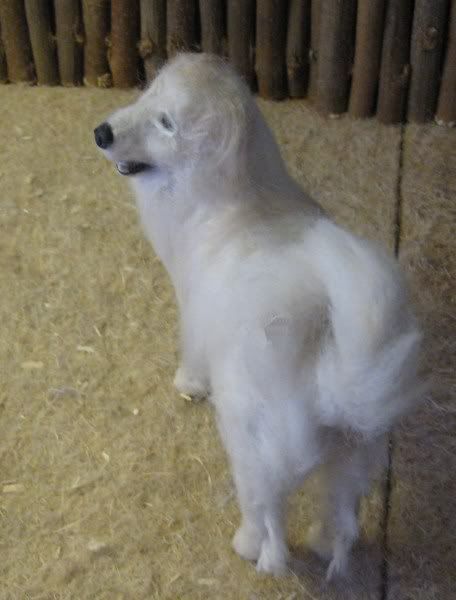 English Summary
Today I showed the doggie to Eva, who thought he reminded her a bit of the "family" of her own dog in the Netherlands, who partly have longish snouts.
She had some suggestions to try to improve this one or consider on future projects, so it was back to the worktable for him!
Evas helping hints:
1. The eyes have to be almond-shaped
I could only partly correct it here, will sculpt accordingly next time
2.The so called "wolf claws" are missing
A construction mistake of mine- they were not wire-enforced and broke
3.More fluff and feathers on the hindlegs, too.
This was easy to fix.
Now a name was to be found- and, as I realised, a kennel-name, too, as this would not be the only fluffball forthcoming.
The kennel name was then easy, fitting my website and stable: "Tour d'Ivoire"
For a name I picked then Abécédaire de Tour d'Ivoire, but the everyday name would be "Abby", then.
The Abécédaire seemed most fitting, as it is a book to learn the alphabet and I am kinda at learning the alphabet of making modelsized dogs and other animals myself.
And as see above, I finally found the photoangle from which the dog does not look dorky... The problem is, I realised, that he looks up, so all "frogperspective" pics were bound to look weird...