Bei uns ist ja auch einiges an Schnee heruntergekommen und heute war so schönes Wetter, das Carl das für einen kleinen Ritt genutzt hat.
Zunächst mussten sie sich zwischen zwei Schneewänden durchschlagen:
Dann wurde es zum Glück etwas besser:
Wo geht hier nun eigentlich der Weg weiter???
Vorstellen muss ich Euch noch die beiden Pferde die Carl dabei hat.
Vor einer Weile haben wir bei einer Züchterin eine Stute gesehen, die so toll in unsere Vollblutstuten-Herde gepasst hätte. Doch dann war die Verkaufsanzeige nicht mehr da. Auf Nachfrage erfuhren wir, dass die Stute schon eventuell zu haben wäre- allerdings nur mit ihrem besten Freund zusammen.
Nach etwas überlegen wurden wir uns mit der Züchterin einig und die Pferde kamen mit dem Express-Transport vom Gestüt in Riverbend hier an.Nochmal ganz herzlichen Dank!
Glow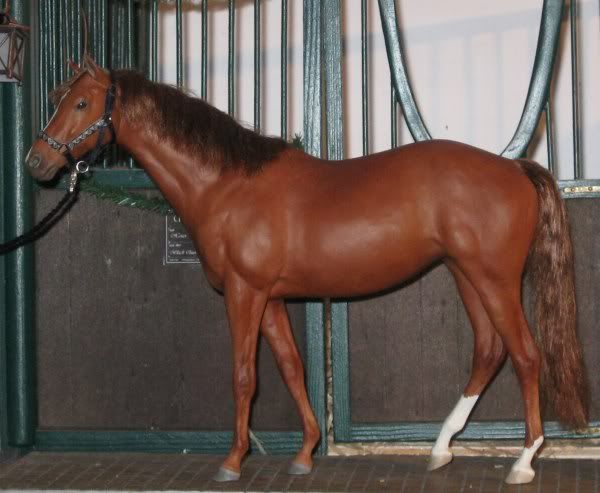 Zum erstenmal konnte ich mich nicht zwischen zwei Namen entscheiden, so dass er nun einen Rufnamen und einen für die Stalltafel hat.
Catch the Rainbow - Rufname: Robin
Und hier meine kleine Cust-Touch of Class Conga im Regal: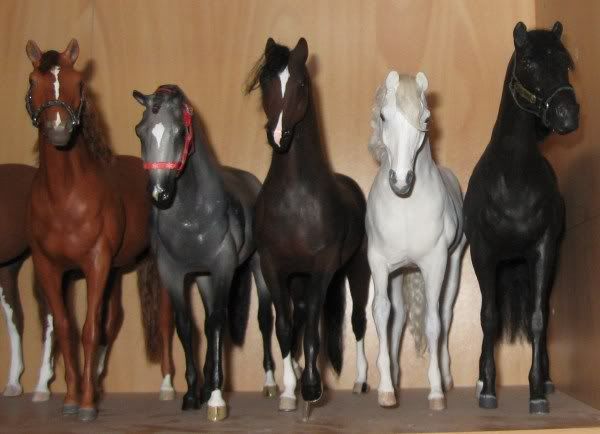 Von Links nach Rechts:
Glow- rrh von R. van der Graaff
Royal Snowflake - rrh von Deb Pruitt (Lenzner)
Gralskönigin- rrh von Jamie Coughlin
Irrlich- rrh von mir
Black Queen - rrh von mir

English Summary:
We got lots of snow, but the weather was so lovely today and Carl decided to try for a little snowride.
First they had to plough on between two walls of snow, until it got a little bit better. Then he was looking for the way- he had not been there very often before and the snow has covered all the points of orientation in the landscape.
And I have to introduce the two horses that Carl has with him here.
I found them in a sales-add and since I have slight weakness for customized Touch of Class models, I kept her in mind. When I got around to look for her again, the add was pulled. I mailed the seller anyway and she said the mare could be had, but was not to be seperated from her gelding-friend. I thought about it but had already fallen for their charms. *g*
So here we have the mare "Glow" and the gelding "Catch the Rainbow", who will be called "Robin".
Above, you can also see my ToCs in a row- please ignore the dust, LOL!! I had seen it only after taking the piccie.