Der wohl späteste aller Neujahrsgrüße, öhm...
Aber auch die Modellreiter sind gut ins Jahr 2011 gekommen und haben am Neujahrs-Morgen den traditionellen Sprung ins Neue Jahr gemacht.
Hier zwei Bilder vom größten: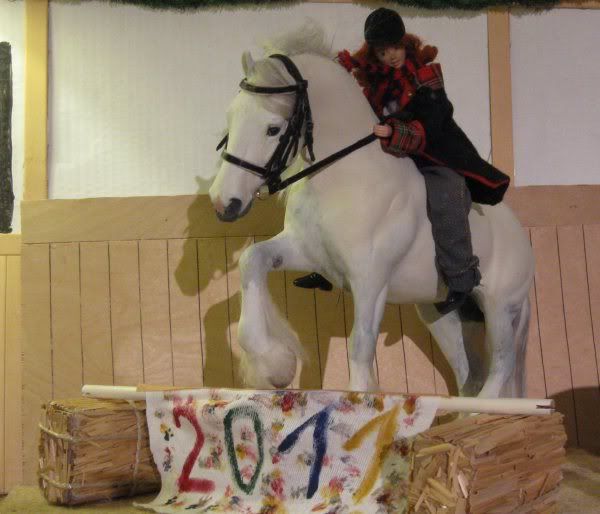 und kleinsten Hüpfer: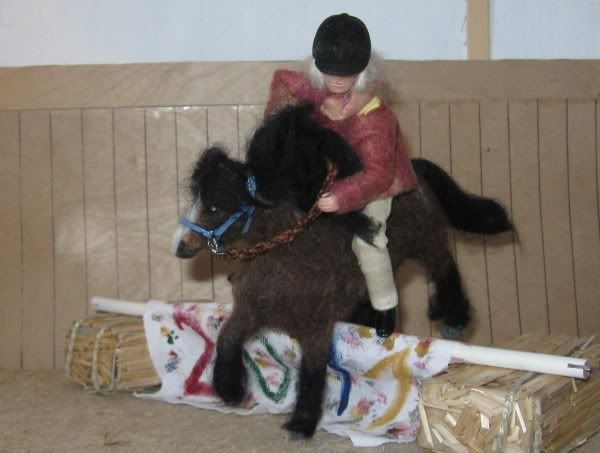 In diesem Sinne wünsche ich allen noch ein Frohes Neues Jahr!
Dann habe ich durch Zufall beim surfen in Modellpferdeblogs noch ein paar neue interessante Blogs entdeckt, ich kann nur empfehlen auch mal die Links unter "Modellpferde-Blogs" anzuklicken.
Besonders Klasse ist, das Leah von den Shoestring Stables beschlossen hat, doch weiter zuschreiben, eigentlich war ihr Blog nämlich schon aufgegeben.
Angucken lohnt sich, ich komme mit dem Lesen der prima Tips kaum nach:
http://shoestringstable.wordpress.com/
Ihr Blog hat mich dazu inspiriert noch öfter "In Arbeit" Bilder zu zeigen und dazu was zu schreiben, sobald ich wieder die Ruhe habe mich an ein Cust zu setzen geht es los.
Dann habe ich es endlich mal geschafft, für Cleo ein Halfter zu basteln, schließlich hatte ich ja extra das rote Band dafür besorgt. So eins hatte auch die echte, allerdings war das nicht lange so strahlend rot.*g*
Heute ist auch das frische Apoxie gekommen, damit ich bald wieder loslegen kann, mit im Paket waren drei Tiere.
Schleich hat super goldige neue Katzen-Molds herausgebracht: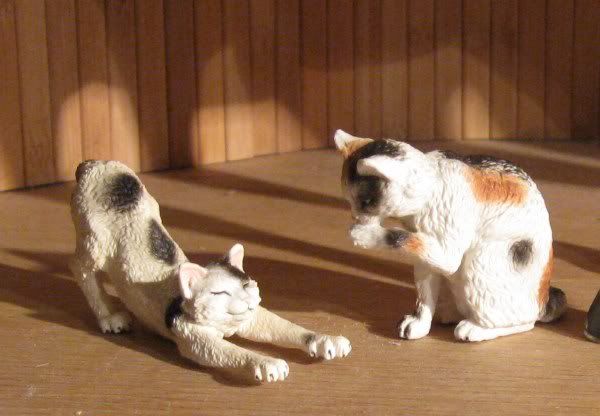 Haben auch eine ganz nette Größe, hier mal neben Cleo: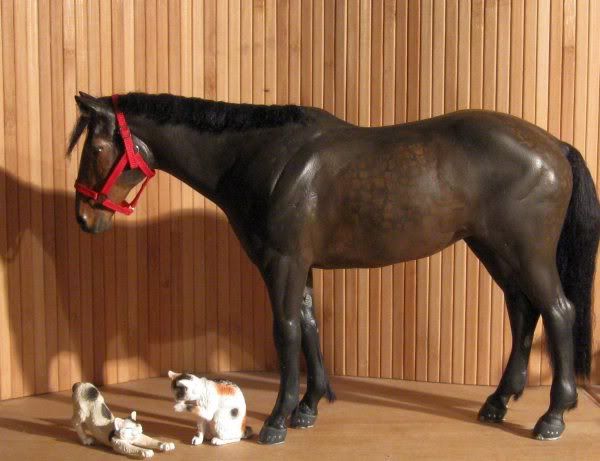 Und dann für meine Bernhardiner-Sammlung, das Exemplar von Papo: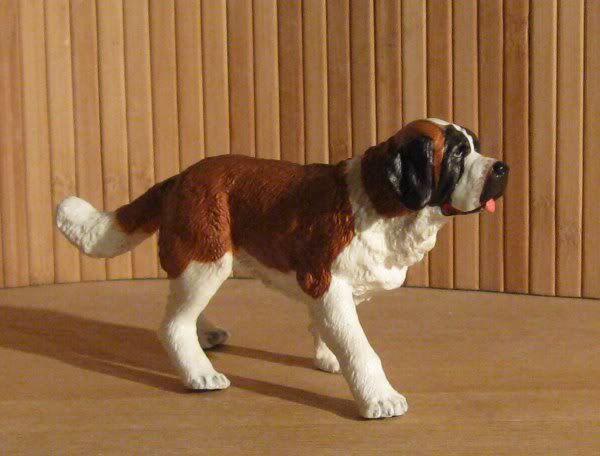 Mit ein bisschen Überarbeitung sieht der sicher ganz gut aus.
English Summary:
Wow, I was never that late before with New Year greetings!
But of course the little people in my stable have celebrated New Year, too and in the morning after New Year's Eve, there is the traditional "jump into the next year" for those who have not too bad a headache.
Here you see the largest and the smallest jumper.
Belated but Happy New Year to everyone!
When I surfed model horse sites and blogs lately, I found a couple of new (to me) and interesting links, so be sure to check out my link list from time to time.
On that occasion I also found Leah of Shoestring Stables
http://shoestringstable.wordpress.com/
and I am very happy that she is blogging now a lot. She is also in the hobby for fun and delights crafting horses herself. In the last few days she has posted several entries about her way of working and favourite tools which I already found very helpful.
She has now inspired the idea to post more tutorial-like entries myself, where I can explain a bit what I am doing. Will start as soon as I get around to the next project again. I hope for the weekend.
Finally I made use of the red ribbon, too and made a halter for Cleo. Well, *her* halter, in fact, as the real Cleo had just such a red halter, only that it did look that nice and red only for a few days when it was new. *g*
Today arrived the fresh Apoxie, so that I can turn to my started projects again with fresh supplies. In the box were also three new animals.
Schleich has some adorable new cat molds out, I really had to have these. As you see, they match Traditional sized horses well. (Cleo has been a Breyer Halla, just so you can guess her size better)
And a St.Bernhard by Papo, for my little collection. Some touch ups and he will look pretty neat. I really need to photograph my St.Bernhards all in one spot- they're not growing the horses out of the house, but they are a few already.