Diese Weihnachten habe ich gleich von zwei Leuten etwas Modelliges bekommen. Da ich mich über beides riesig gefreut habe, bekommen auch beide Geschenke ihren eigenen Post. :)
This Christmas, even two people had some modelsized gifts for me. And since I was so very happy about everything, I have decided that each pressie gets its own post. :)
Von Vile und den Wooden Eyre Stables bekam ich einen Katzenkorb, damit meine vielen Stallkatzen auch einen gemütlichen Schlafplatz haben. Wohlgemerkt,
Katzen
korb.
In Charlies Augen war das aber eher ein
Corgi
korb. Und so nahm die Geschichte ihren Lauf.
Vile of Wooden Eyre Stables gave me this wonderful basket for my stable kitties, so that they would have a nice place to sleep in. She did say "cat basket".
And then there was Charlie. Charlie thinks this is a "Corgi Basket".
Es spielen mit: / Starring:
Schneeball, die große weiße Katze (Snowball, the big white cat)
Lucie, die grau-weiße Katze (Lucie, the gray and white cat)
Fleck, die bunte Katze (Spot, the multicoloured cat)
Sir Charles = Charlie, der Corgi (Sir Charles aka Charlie, the Corgi)
Und das ist dann eines Abends passiert:
And this happened one evening:
Schneeball: Guck, so ein netter, neuer Korb, ob der für uns ist?
Lucie: ...der Hund kommt.
Snowball: Look, such a nice new basket- I wonder if that is ours?
Lucie:...there comes the dog.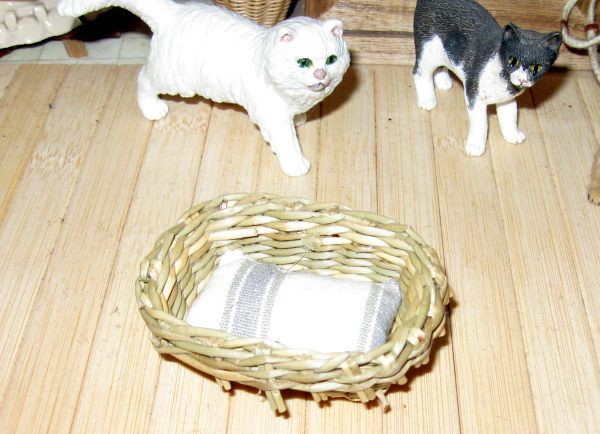 Charlie: Sorry Mädels, das ist definitiv ein Hundekorb.
Katzen: Du passt ja nicht mal ganz rein!
Charlie: Den mach ich mir schon passend... Bäääääääh!
Charlie: Sorry girls, this is definitely a dog-basket.
Cats: But you don't even fit into it!
Charlie: I am sure, I get to make it fit. Pbbbtthh!!!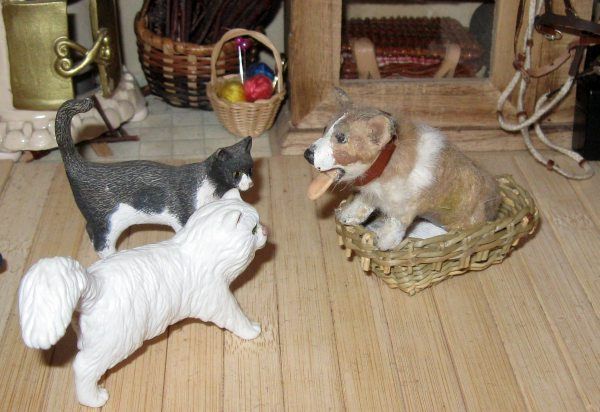 Und während Charlie die Katzen ärgerte, hörte man vom Ofen ein leises Katzen-Kichern.
Fleck: Nicht aufregen, den kriegen wir da schon raus...
And while Charlie teased the kitties, one could hear a cat snicker near the oven.
Spot: No worries, we'll get him out of there...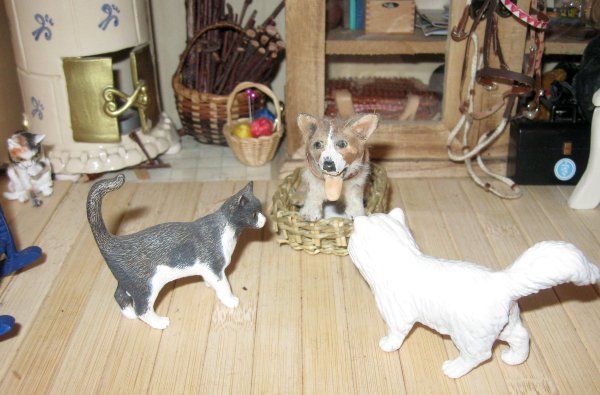 Charlie: Achja? Wie denn?
Fleck: Keks? *putzt sich unschuldig*
Charlie: *sabber*
Charlie: Ah yes? And how?
Spot: Cookie? *washes face most innocently*
Charlie: *drooooool*
Fleck: Weißt Du, Charlie, wir Katzen könnten diese Dose locker auf machen...
Charlie: Will Keks, will Keks, will Keks!!! *sabber*
Fleck: Na, kein Problem- komm her, guter Hund, sitz!
Spot: You know, Charlie, we cats could easily pry this jar open...
Charlie: Want cookie, want cookie, want cookie!! *drooool*
Spot: Oh, no problem. Here, good dog, sit!
Fleck: Na, und wo war jetzt das Problem?
Lucie:Hehe, genial....
Charlie: Nom, nom, nom...
Spot: And the problem was what?
Lucie: You're a genius!
Charlie: Nom, nom, nom...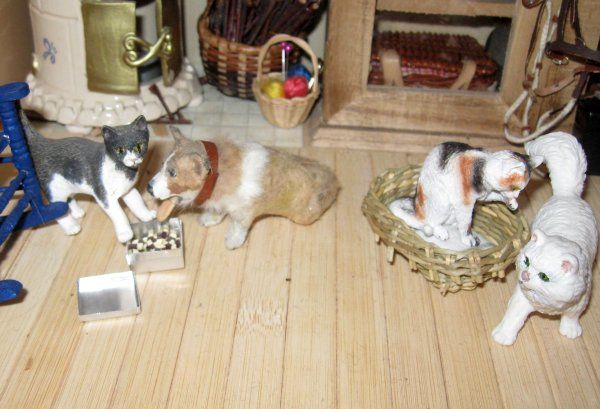 Keksdosen-Groß-Aufnahme:
Cookiejar-Closeup:
Und morgen gibts dann die Geschichte zu meinem anderen Geschenk. :)
And tomorrow follows the story for my second present.:)