Herbstsonne hat endlich ihr eigenes Halfter gebastelt bekommen- leider sitzen die Halfter immer nicht so toll, weil das ToC Modell die Ohren ziemlich weit hinten hat - man muss deshalb immer recht lange Backenstücke machen.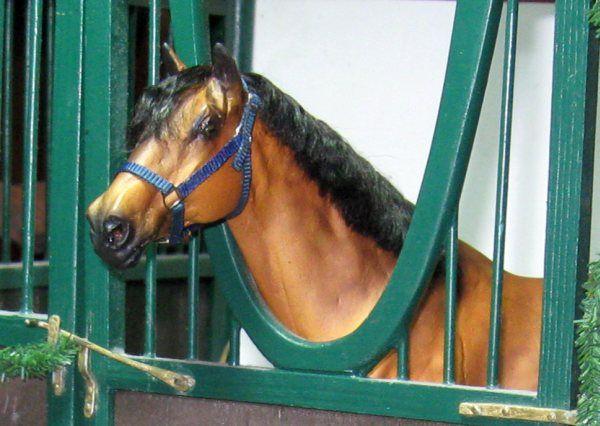 Das Halfter ist übrigens zweifarbig, auch wenn man das auf dem Bild nicht so gut sieht. Es sind die Farben "Petrol" und "Königsblau".
Réalta Thuaidh hat zwar noch kein eigenes Halfter und musste sich erstmal eins leihen, aber die Decke darf er definitiv "behalten".
Ein Halfter bekommt er aber auch noch, ich habe mich nur noch nicht für eine Farbe entscheiden können... Eventuell schau ich auch mal ob ich Ripsband in den Farben der Decke finde.
(Und hier sind die Beine nun wieder dunkler als in echt- der ist wirklich schwer zu fotografieren...)
English Summary:
I made a new halter for Herbstsonne. Unfortunately, the ToC model has a very weird placement of its ears which forces you to make the cheekpieces longer and resulting in the halter not always sitting so well on the head.
The halter has been made from two different colours, Petrol and Royal Blue.
Réalta Thuaidh has no halter of his own, yet, and had to borrow one for this picture, but he certainly will "keep" this blanket. I'll be making a halter for him, too, as soon as I can decide on the colour. Or maybe something in the colours of the blanket, if I can find matching ribbon.